Friday, August 28th, 2009
Although I don't personally go for SSBBWs as a rule, there's one sexual fetish I harbour which can generally only be satisfied by said super-sized big beautiful women and that's my big fat belly fetish. I just can't get enough of voluptuous women with soft, cuddly bellies and, as I've said before, a nice flabby belly fuck can't be beat (and- sadly, I've only been able to find one example of this particular plumper perversion and, even then, the bloke with his boner buried in belly flesh was fucking her love-handles instead)!
And, indeed, my pinnacle of super plump pulchritude hands-down has to be heavenly H-cup honey Desiree Devine who came to the conclusion that cellulite can be sexy after gaining weight during her battle with cancer as mentioned in an article from AdultFYI entitled "It's Hip to be Fat". Although the story of divine Desiree overcoming cancer, putting on pounds and ultimately achieving fat acceptance for herself in becoming a super sexy SSBBW porn model is a most inspirational one, I find myself rather inspired by her beautiful big belly cleavage as well (which I'd first come to gaze upon its glorious girth by virtue of this video with Samantha38g after which the fevered fantasy of wallowing in her fat belly flesh took firm hold upon my BBW loving being (and, Desiree, should you happen to read this, some sexy photos or videos of a guy fucking your belly flab would be a dream "cum" true!))!
Most recently, the ever lovely Desiree Devine has developed a penis penchant for big black cocks in the form of the many interracial hardcore videos she's done for BBWsGoneBlack. Well, our big belly beauty is at it again in her most recent photos & videos for the site, playing the sexy masseuse and giving her cock equipped chocolate consort a sensual massage with a happy ending – well, more than just the proverbial "happy ending" as that generally stops with a handjob or, at best, a blowjob and she goes on to fuck this boy silly – in her latest interracial hardcore content from BBWsGoneBlack.com:
Desiree Devine H-cup big tits SSBBW solo softcore photos from BBWs Gone Black
Desiree Devine H-cup big tits SSBBW interracial hardcore photos from BBWs Gone Black
Desiree Devine H-cup big tits SSBBW interracial hardcore videos from BBWs Gone Black
CLICK HERE TO VISIT 44H DESIREE DEVINE AT BBWSGONEBLACK.COM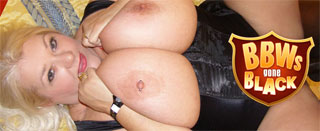 (webmasters)
Share and Enjoy